Ref:
Date:
Location:
Photographer:
[clikcontent type=paymentBuyLink replaceable=true]
Ref:
Date:
Location:
Photographer:
[clikcontent type=paymentBuyLink replaceable=true]
10th & 11th AUGUST 2017
Weekend at the GSPCA site with visiting expert Clive De Brun. You will not want to miss this - Clive is a very interesting and entertaining speaker.
As promised details of the meals during the Clive de Bruyn weekend.
Thursday 10th August, if we have sufficient numbers we will have a buffet feast on the top deck at the Mermaid Tavern in Herm, if not then we will have an equivalent courtyard meal. No pre – order is needed. There will be four buffet options to choose from on the night, hopefully something for everyone:-
Spaghetti Carbonara
Mexican Beef Chilli
Traditional Paella
Vegetable Balti
The cost of the ferry plus buffet is £21. The ferry leaves at 19.00.
Friday 11th August Bar supper (main course) at L'Eree Hotel, in the breakfast room. Cost £11 per person.
Crab Cakes (served with sweet chilli dip)
Chicken Parcel (chicken stuffed with mushrooms, wrapped in bacon & topped with leek sauce, served with potatoes & vegetables)
Beef & Mushroom Guernsey Ale Pie (Slow cooked chunks of beef cooked in Guinness topped with a puff pastry lid, served with seasonal vegetables and your choice of potatoes)
Fish & Chips (served with mushy peas or garden peas)
Vegetable Lasagne
All GBKA members should have been emailed with the above details, but if mislaid, please contact the Secretary Janice Firth directly or through this website asap for further details and cheque payments etc -I hope that you will be able to join us!
Janice Firth
SATURDAY 21st AND SUNDAY 22nd OCTOBER 2017
The Honey Show- in the Orchard House . the Victorian Walled Garden Saumarez Park. A chance to celebrate our bee keeping year and show members of the public what bee keeping is about. We will as always be welcoming as many entries as possible, and if you are not able to enter, never mind come along and be inspired for next year!
Saturday 21st October 2017 7.30 pm the Honey Show dinner at Hotel Jerbourg- a lovely social occasion, all welcome- so come along- you do not need to have entered the show!
TUESDAY 28th NOVEMBER 2017
AGM 7.30 pm at the GSPCA training room
At the 2016 AGM at the GSPCA training room, Chris Tomlins gave an update on the Asian Hornet situation. He outlined the measures that the Association has taken and how members can guard against this threat to our honey bees. The more informed and vigilant bee keepers we have the safer all our colonies will be.[/b]
FUTURE EVENTS WILL BE POSTED HERE WHEN FINALISED
Further details on these will be given when known.
We welcome visits from youth groups, and can supply children's and adult bee suits so the children and adult leaders can get kitted out and look inside a hive, we also take our sealed observation hive to schools playschools and groups such as WI so they can see the bees, and learn about honey bees and how we keep them. We would like as many people as possible to be Bee Aware. The girl in the picture shown below is wearing one of the bee suits. If any organisation is interested in a visit please contact us through this website.
A few images taken Spring Cleaning at the Association Apiary on the 3th April where a demonstration was shown of Bailey Comb Change and Shook Swarm methods.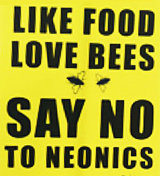 The following link has been passed on to us by a GBKA member and makes good reading http://bees.pan-uk.org/

On the same site our President, Chris Tomlins has also suggested the leaflets about the effects Neonicotinoids are having on honey bees make interesting reading.

Fortunately these chemicals are not being used by farmers in Guernsey, but they are being incorporated into chemicals for home use that can be obtained from local garden suppliers.

The GBKA believes their use in Guernsey should be discouraged. For The List Click Here...
CLICK HERE for Dave Cushman's website
CLICK HERE for MAQS website
Shown here is a link to a NEW SCIENTIST article describing how honey bees are spreading disease to other insects.
CLICK HERE
SELF MEDICATING BEES
A study from North Carolina State University shows that when a colony is infected with a harmful fungus,honey bees 'self medicate' by bringing in increased amounts of antifungal plant resins.  
When faced with harmful fungus, bees line their hives with more propolis (a mixture of plant resins and wax that has antifungal and antibacterial properties) to help ward off the pathogens.  
Researchers found that when faced with a fungal threat, bees would bring in up to 45 percent more propolis on average.  
However, although it is widely believed that propolis also has antibacterial properties, this self medicating behaviour does not extend to bacterial threats in a hive. Honey bees did not bring in significantly more propolis when their colony was infected with pathogenic bacteria.    
For more on this study go to:-  
http://www.cabk.org.uk/category/science/
POTENTIAL APIARY SITES AVAILABLE
Members of the public have contacted the Association with requests for bee hives to be placed on their properties.
If any GBKA member wishes to take advantage of these offers, in the first instance, please contact through the website.
gbka@suremail.gg
News & Events
Listed here are the forthcoming events organised and undertaken by the Guernsey Beekeepers Association. (GBKA). Any other events or courses not listed here have not been organised by the GBKA.
News and articles on this website look far better with photos alongside them - so please please, dust off your camera and email us your bee related images - full credit will be given to you on the website
Do not worry about editing or enhancing them this will all be done here! - large images are also no problem - all we ask is that they are in focus!
Please send all images to:-
gbka@suremail.gg
WE ARE ALSO ON Facebook...