Ref:
Date:
Location:
Photographer:
[clikcontent type=paymentBuyLink replaceable=true]
Ref:
Date:
Location:
Photographer:
[clikcontent type=paymentBuyLink replaceable=true]
On Tuesday 28th November at the GSPCA training room the 2017 AGM took place.

The outgoing President was Chris Tomlins, with our new President now being Damian Harris.

Vice President is now Eileen Bougourd,

Secretary - Janice Firth

Treasurer - Stella Fallaize


After the AGM, outgoing President Chris Tomlins gave a talk and demonstration on his methods in preparing his bees for winter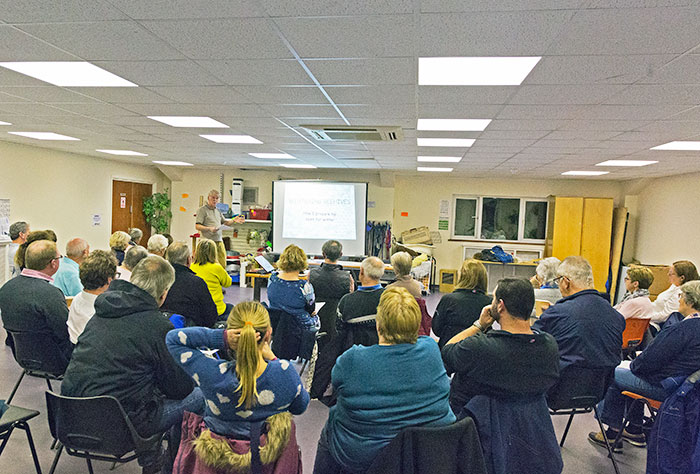 [b]FUTURE EVENTS WILL BE POSTED HERE WHEN FINALISED
Further details on these will be given when known.
We welcome visits from youth groups, and can supply children's and adult bee suits so the children and adult leaders can get kitted out and look inside a hive, we also take our sealed observation hive to schools playschools and groups such as WI so they can see the bees, and learn about honey bees and how we keep them. We would like as many people as possible to be Bee Aware. The girl in the picture shown below is wearing one of the bee suits. If any organisation is interested in a visit please contact us through this website.
11th -13th AUGUST 2017
Weekend at
Chris Tomlins' apiary with visiting expert Clive De Brun.
This was a successful visit and shown here are some photographs taken by Jeannine Tanquerel.
The last few images show President Chris drawing the two raffle prizes.
The winners of the raffle were 1st Sarah Kelly and 2nd Melissa Roper.
The two successful bidders on the Silent Auction were:-
1st Hilary Stokes
2nd Roger Baines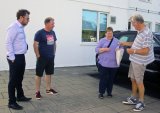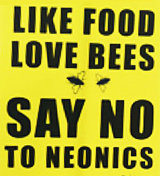 The following link has been passed on to us by a GBKA member and makes good reading http://bees.pan-uk.org/

On the same site our President, Chris Tomlins has also suggested the leaflets about the effects Neonicotinoids are having on honey bees make interesting reading.

Fortunately these chemicals are not being used by farmers in Guernsey, but they are being incorporated into chemicals for home use that can be obtained from local garden suppliers.

The GBKA believes their use in Guernsey should be discouraged. For The List Click Here...
CLICK HERE for Dave Cushman's website
CLICK HERE for MAQS website
Shown here is a link to a NEW SCIENTIST article describing how honey bees are spreading disease to other insects.
CLICK HERE
SELF MEDICATING BEES
A study from North Carolina State University shows that when a colony is infected with a harmful fungus,honey bees 'self medicate' by bringing in increased amounts of antifungal plant resins.  
When faced with harmful fungus, bees line their hives with more propolis (a mixture of plant resins and wax that has antifungal and antibacterial properties) to help ward off the pathogens.  
Researchers found that when faced with a fungal threat, bees would bring in up to 45 percent more propolis on average.  
However, although it is widely believed that propolis also has antibacterial properties, this self medicating behaviour does not extend to bacterial threats in a hive. Honey bees did not bring in significantly more propolis when their colony was infected with pathogenic bacteria.    
For more on this study go to:-  
http://www.cabk.org.uk/category/science/
POTENTIAL APIARY SITES AVAILABLE
Members of the public have contacted the Association with requests for bee hives to be placed on their properties.
If any GBKA member wishes to take advantage of these offers, in the first instance, please contact through the website.
gbka@suremail.gg
News & Events
Listed here are the forthcoming events organised and undertaken by the Guernsey Beekeepers Association. (GBKA). Any other events or courses not listed here have not been organised by the GBKA.
News and articles on this website look far better with photos alongside them - so please please, dust off your camera and email us your bee related images - full credit will be given to you on the website
Do not worry about editing or enhancing them this will all be done here! - large images are also no problem - all we ask is that they are in focus!
Please send all images to:-
gbka@suremail.gg
WE ARE ALSO ON Facebook...